Maine Hindu Temple is arranging a Samoohika Sai Paaduka Pooja as a part of a Historic Sai Paduka Yatra all around the United States undertaken by Sai Datta Peetham (SDP).   As part of this Akhanda Paaduka Seva Yatra the SDP is meeting devotees across the country in order to spread the Sai Thatvam and also providing an opportunity to the devotees to conduct this Holy Event in their respective houses by inviting Baba Paadukas to their houses.
In this process, Sai Datta Peetham (SDP) kindly request's all the community members to host, Baba Paaduka Pooja in their home or community in such a way SDP can reach many Baba devotees and so far 70,000 devotees taken part in this Holy Event. The Peetham Founder- Raghu Sankaramanchi fondly called as Raghuji (Formerly served in Vijayawada, Dilsukhnagar Baba temple, NY, NJ Baba temples) along with two other priests and Peetham volunteers are taking Baba Padukas on a 'Rath' (RV) to devotee's places all across North America. In this event, every interested individual will get an opportunity to participate in Baba Paaduka Pooja.
Program details for 24the Sep :
6:00pm Guruji will come to the temple with Baba Pallaki and Paadukalu.
6:15pm to 6:30pm we will take Baba paallaki and Baba Paadukalu from the Van to our prayer hall.
6:30pm to 7:15pm Baba Paaduka pooja
7:15pm to 7:35pm Bhajans
7:35pm to 7:50pm Guruji's speech
7:50pm ShejAarathi
8.15 pm: Prasad distribution
No Sponsorship Required for participating in this event.
Every family who will come to the temple to participate in this Samoohika Sai Paaduka Pooja will get 8X10 size Baba Picture, Baba Udhi and Baba Maha Prasadam.
Please see the below flyer for the Pooja Process on 9/24/2016 Saturday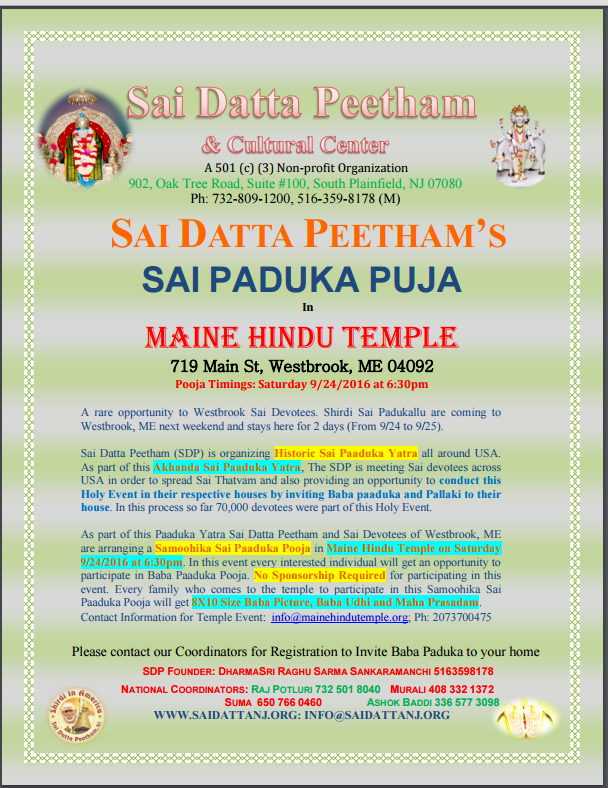 All community members are invited to the event. Please bring flowers for the Samoohika Sai Paaduka Pooja and receive Shri SaiBaba blessing. Please RSVP as soon as possible to confirm your attendance by emailinginfo@mainehindutemple.org or calling (207) 370-0475, if anyone has any questions about the Samoohika Sai Paaduka Pooja.
Thank you for your continued support. We hope to see you on Saturday, September 24th, 2016, for the Samoohika Sai Paaduka Pooja.
Sincerely,
MHT Board
Maine Hindu Temple (MHT) is a registered Non-Profit organization under Sec 501(c)(3) of the IRS. Federal Tax ID: 45-3571969
Anyone can subscribe to MHT Mailing list by visiting the MHT website or MHT Facebook.