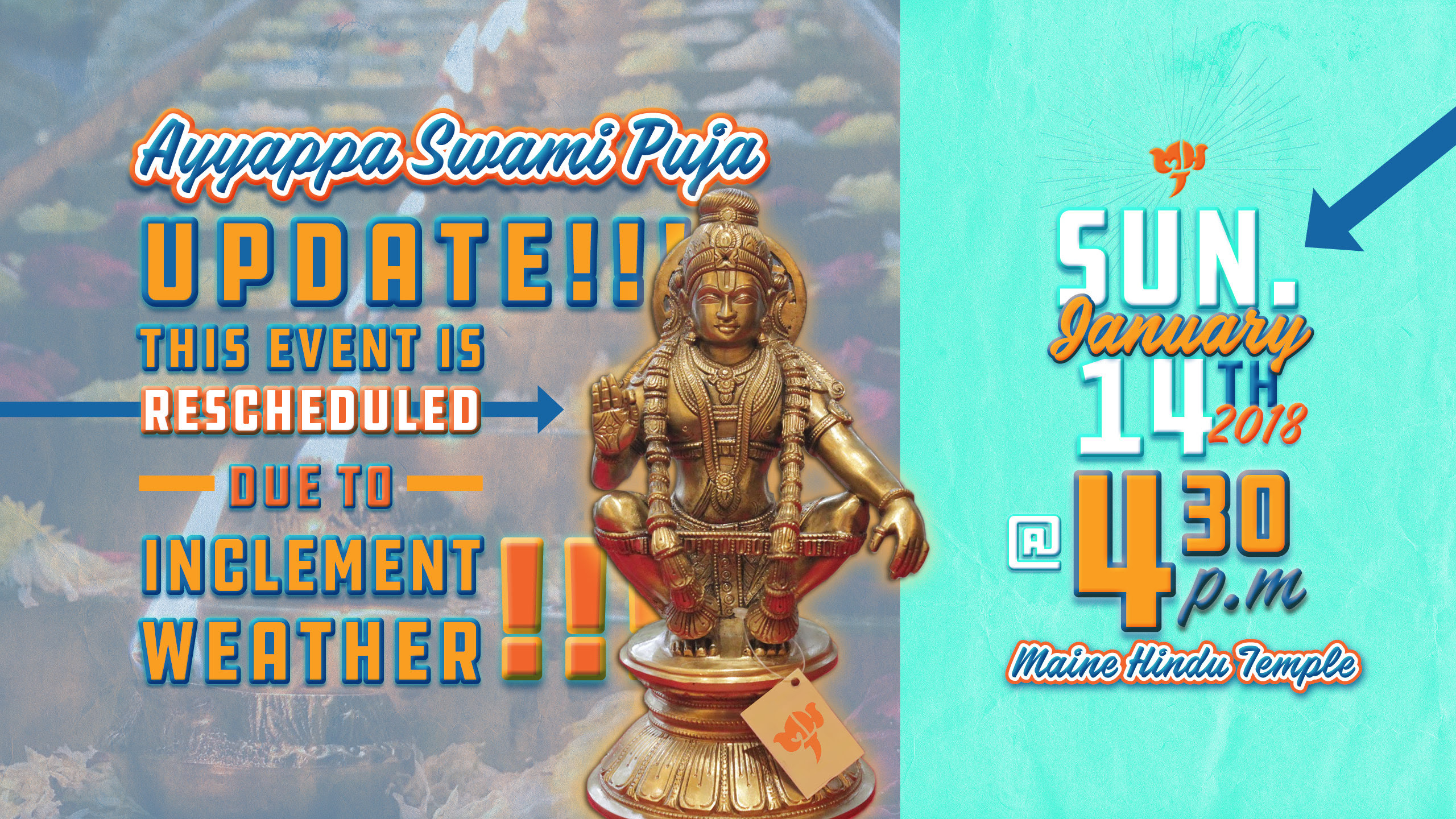 MHT would like to invite you all to participate in Ayyappa Swami Pooja on January 14th, 2018 Sunday at 4:30 PM. 
A pujari from Boston will be joining us for this auspicious event, so be sure to register early
Ayyappan is the Hindu god of growth, particularly popular in Kerala. He is a synthetic deity, the son of Shiva and Mohini – the female avatar of Vishnu.  Ayyappan is a warrior deity. He is revered for his ascetic devotion to Dharma – the ethical and right way of living, to deploy his military genius and daring yogic war abilities to destroy those who are powerful but unethical, abusive and arbitrary.
All community members are encouraged to bring the flowers, prasad for the Pooja.
MHT needs volunteers for the event for arranging Pooja items, Garland Preparation, distribution of prasadam for the devotees and cleanup. Kindly email info@mainehindutemple.org if you would like to volunteer.
Event Details:
4:30 – 5:00 PM
Registration
5:00 – 5:45 PM
Ganapathi Puja
Punyahavachanam
5:45 – 8:30 PM
Kalasa Satpana
Ganesha Homam
Ayyappa Poornahuti
Ayyappa Abishekam
Alankaram & Bhajans
Upachara Pooja
Naivedyam Aarathi
Padipuja
Harivarasanam
8:30 – 9:30 PM
Prasadm Distribution
Cleanup
Ayappa Swami Puja Sponsorship: $51.
We are grateful for your support, participation, and generosity.Thank you for your continued support. We are looking forward to seeing you at Lord Ayyappa Swami Puja.
Sincerely,
MHT Board
01/07//18